Balmacara and The Woodland Walk

The National Trust for Scotland's Balmacara Woodland Walk
The peninsula of Loch Alsh in Wester Ross is under the ownership of the National Trust for Scotland (http://www.nts.org.uk) which aims to preserve and conserve the area and its habitat for future generations to enjoy.
There are several walking trails to explore in the area amongst native woodland and open moorland. The Visitor Centre at Balmacara Square has them all on touch screen display and is a good place to start when planning an outing.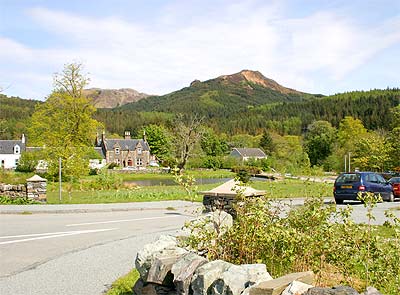 Balmacara Square with Sgurr Mor in the distance
The Lochalsh Woodland Garden is situated 3 miles East of Kyle of Lochalsh on the A87 and provides pleasant walks beside the loch amongst a 2 acre woodland garden with mature Scots pine, oaks and beeches as well as collections of bamboo, ferns, hydrangeas and rhododendrons. The 'Rhoddies' collection contains some really interesting specimens and is at its best in Spring.
There is a kiosk by the car park and if no member of staff is present, an honesty box is in place for donations. The garden is open all year and dogs are allowed if kept on a lead.
One of the signposted walks starts on the opposite side of the A87 from the garden entrance. This trail follows the old coastal footpath to Kyle of Lochalsh (3 miles) and provides a very pleasant alternative to the main (busy) road. Views to Kylerhea are stunning.
Another recommended trail walk meanders along the shoulder of Sgurr Mor above Balmacara and it is possible to do a circuitous route without retracing ones steps too much. Again, for full details and definite distances please consult the Visitor Centre map at Balmacara Square.
Balmacara Square has a thriving population and many of the buildings have recently been restored. There is also a tranquil pond in the centre of the village with ducks and grassy banks for picnics. The far side of the village also houses a craft shop, Scottish Crofters Foundation www.croftingfoundation.co.uk and Antique Maps of Scotland shop www.caledonianmaps.co.uk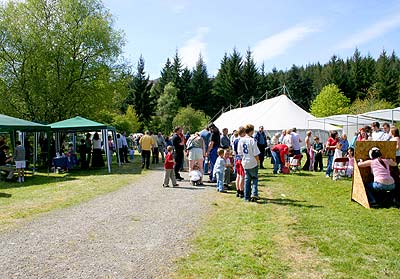 Balmacara Country Day
If you are looking for somewhere to stay in Balmacara then the newly renovated Balmacara Hotel provides excellent accommodation, bars and restaurant.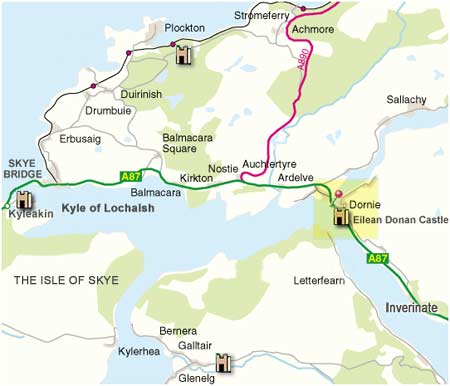 Map showing the location of Balmacara