Kyle Railway Museum & FOKL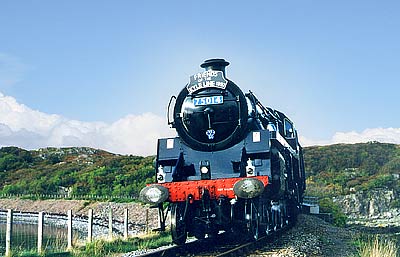 Steam Train just outside Kyle of Lochalsh Station
A great place to spend an hour or so is the Raiway Museum at the far end of Kyle Railway Station Platform (Skye Bridge side). Here you can see railway memorabilia from the past 100 years; right where some of it was used - in the station. The museum was set up to generate funds for Friends of the Kyle Line (FOKL) whose purpose is to keep the Kyle Line open and busy. When visiting the museum remember this as its YOUR donations that keep the most scenic railway in Britain open.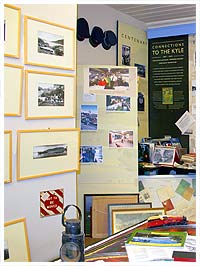 Small part of the Railway Museum
As well as the general railway items there is a collection of high quality black and white photographs. These images depict ordinary day to day scenes from the Lochalsh and Skye area and provide a fascinating insight into the rigours of Highland life in Victorian Britain.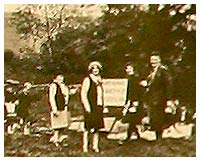 Upmarket picnic
The museum also houses a Gallery wth a wide selection of local Arts and Crafts. These can be purchesed at reasonable prices with cheaper items as simple souvenirs of your visit. (Check the old post card basket at reception for some bargains)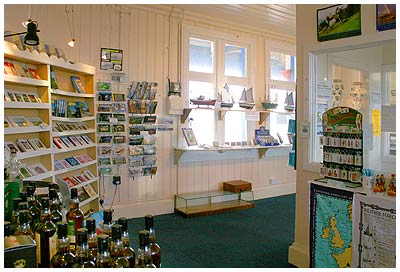 The Craft Shop
Visitors to the area via The Kyle Line include the Royal Scotsman, Orient Express and Steam train. The Waverly paddle steamer is also a regular visitor and of course she docks at the seward end of the platform. It is here in the centre of the platform you can also still see the tunnel ramp up which the cattle were driven off the boats from Skye and further afield. Keen eyed visitors will also note the rails for the old Steam Cranes at the corners of the pier.
Finally for the whisky connoisseur there is an opportunity to taste some of the finest local products.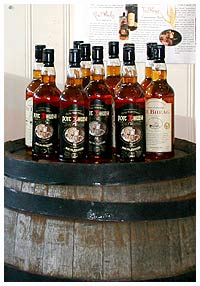 Some local water of life ( uisge beatha)
If you have any information about THE KYLE LINE please send it in an email to : sales@lochalsh.com and we will update this section of the website accordingly.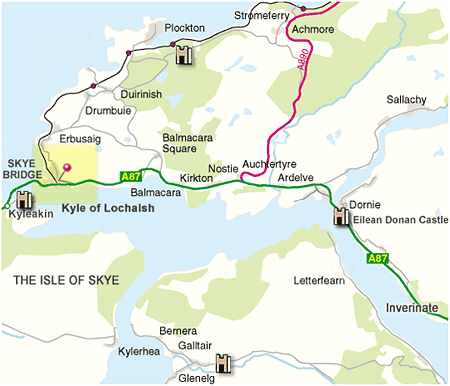 Location of Kyle of Lochalsh