Mountain Biking & rough riding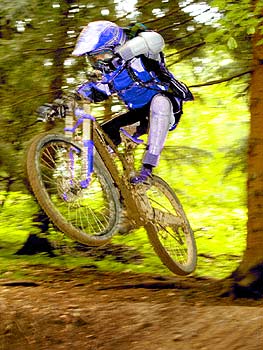 In the fast track ...
Scotland is "one of the hottest places to ride in the world" according to an independent report card on mountain biking. Lochalsh and Skye are one of the best undiscovered areas for this new and all absorbing sport.
The great thing about mountain bikes is that they are made for off-road use and are therefore safer and more enjoyable to run full pelt down a muddy track or hill.
Ordinary (solid frame) bikes can be hired locally so you don't have the worry of transporting them. Soon we will post a list of suppliers of 'proper' mountain bikes and All terrain Bikes (ATBs) bikes in the Lochalsh and Skye area as they become available.
Lochalsh and Skye have a reputation for being easy going and this is true for novice or the older rider who just wants to meander along the woodland tracks at their own pace. You don't need to be superfit - everything is at your own pace.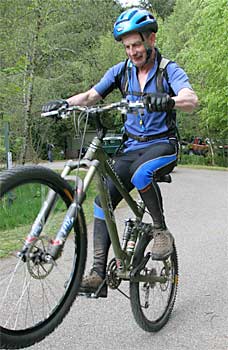 Routes are through quiet forests and paths or trails and we have yet to hear of anyone getting hassled even on their own as the area tends to be friendly towards bikers, especially the local biking community who will go out of their way to help you if they can. Although will most likely list routes here in the future, the best bet for the time being is to pick up a detailed OS map of the Lochalsh area and head out on one of the dotted tracks. Most of the walking guides could be suggestions for Mountain Bike trails... just dont damage the paths or the people walking them!
That said ... you should take precautions - the usual stuff. Tell someone where you are staying (or will be staying) where you intend to go and when you expect to arrive there. This means if you have a slip (in your protective gear) or get lost the local rescue team can come and get you if you go missing. Its also a good idea to take a map and a mobile phone with you and although Lochalsh and Skye are not good areas for reception, you may get a signal higher up on a hill. Note: The Cuillin hills are magnetic so remember this if you are relying on compass bearings.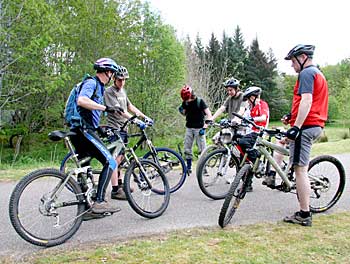 Lochalsh now has a newly formed Mountain Biking Association who are actively lobbying for specialist trails and in co-operation with the National Trust for Scotland hope to get some adaptations to existing paths/trails in the area completed by 2006. Watch this space! (and www.nts.org.uk for any updated information).
Thousands of bikers come to Lochalsh (and Skye) because of the fabulous scenery and relatively quiet roads. Less known are the good mountain tracks for light motorised bikes. Trail bikers who come here - come again and again.
All Terrain Biking (ATB) : this is what most of the current visitors to Lochalsh and Skye do. Similar to Mountain Bikes but none of the mad off-trail stuff; the bikes tend to be heavy duty 'ordinary' bikes but with decent trail grade tyres (not slicks / tubs etc) and of course a good set of gears. ATB folk tend to stick to the trails which in this area can be remote and rough! Take a puncture kit.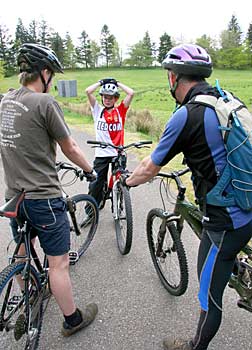 Competition meet - Balmacara, Kyle of Lochalsh
LATEST NEWS
Its hoped to open a new route in the Balmacara area which will include stages for ALL abilities and tastes. The route passes through forest and hill areas on stone and dirt. We will include a sketch of this new route as soon as it becomes available.
New routes are also planned and funding is in place for development. Local landowebers are also respondig in a very positive way offering suggestions for routes that are exciting without disturbing livestock or walkers etc.
Contacts: The newly formed Skye and Lochalsh Area Mountain Bikes (SLAM) will post their contact details here... OCT 2005 We are in regular contact with them and so any news is likely to be available here as soon as we get it.
Link to the Highland Mountain Biking Association : www.himba.org.uk
Link to Seven Stanes www.sevenstanes.gov.uk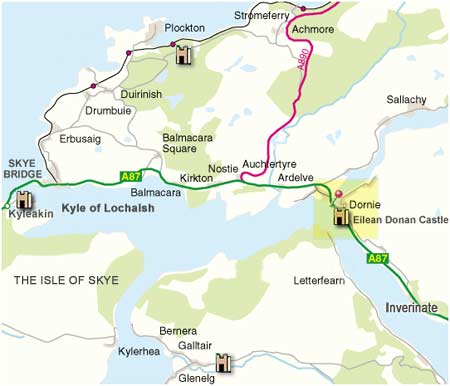 Map of Lochalsh - all good for mountain biking