The Skye Bridge
The gateway to the Isle of Skye and of course the Outer Hebrides of Lewis, Harris and the Uists. Even better, the Skye Bridge's contentious toll has now been abolished and crossing "over the sea to Skye" is now completely free.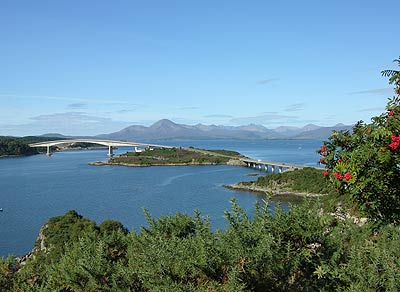 The Skye Bridge
HISTORY
In olden days ( before 1995) we all used to queue for hours in the summer time waiting for the ferry from Kyle of Lochalsh to Kyleakin on the Isle of Skye. Thank goodness for Donalda's wee newsagents shop which sold juice, sweeties, comics and magazines which kept bored childern quiet and frustrated parents from loosing their minds in the heat. In the winter time it wasnt so bad because the tourists weren't here and so queues were shorter but of course sometimes the weather put the kibosh on a smooth quick passage.
Originally the Skye Bridge was a toll bridge and an expensive one at that. Considering the length of the structure, the cost of crossing was the highest toll per metre in Europe. The original expectation for a ticket to cross the Skye Bridge was 40p (around half a Euro) in actual fact the fare ended up being 11.40 pounds (14.5 Euro). People used to say ... "The Skye Bridge - The only place in the world where you get mugged AND get a receipt!"
The bridge toll was so unpopular that the ordinary citizens of Lochalsh and Skye formed a protest group called Skye Bridge Against Tolls or S.K.A.T. They risked their liberty by refusing to pay the tolls. Most protesters escaped jail sentences, however they were heavily fined. (Some protesters were not so fortunate and ended up in the jail after continuing to refuse payment.)
On 21st February December 2004 the toll was finally abolished thanks to the unceasing efforts of S.K.A.T. Skye Bridge Against Tolls and of course the local protesters.
As a post script to the Skye Bridge toll abolition fiasco, in February 2008 the whole of Scotland became toll free for bridge crossings, an event undoubtedly aided by the efforts of ordinaly Scots standing up to be counted, breaking the law and making their voices heard. Special thanks to John Campbell (RIP), Andrew Anderson and Robbie the Pict (Brian Robertson) for running S.K.A.T., organising the peaceful protests and researching the legal and financial aspects of the Skye Bridge and reporting it to the press!
The Transport Minister purchased the Skye Bridge for around 27 million pounds GBP, Toll collection (before abolition) amounts to 33+ million pounds, Operating costs for the consortium was about 3.5 million pounds.
On the positive side ... Using Caledonian MacBrayne's own figures, 30% more poeple crossed the Skye Bridge in the first year than by ferry the previous.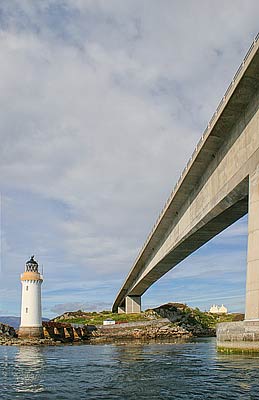 Kyle Light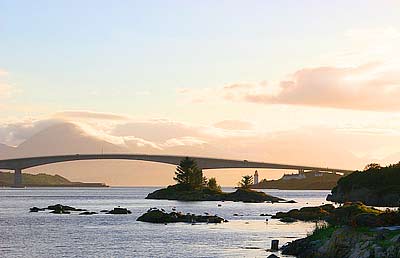 Skye Bridge at dusk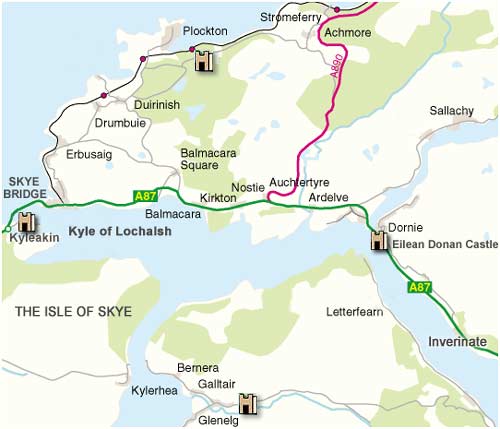 Map showing the Lochalsh area