Plockton - the jewel in the Highlands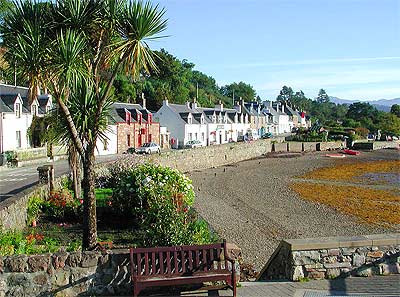 The village of Plockton in Wester Ross is widely regarded as one of the area's most popular visitor attractions. This is due in no small part to its charming seaside setting, the road following the bay with all the cottages strung out like pearls on a strand. Palm trees grow in the seaward gardens and small yachts bob about in the sheltered waters of the bay. No wonder,then, that the Plockton village is considered by locals to be the jewel in the Highlands' crown.
Once you have arrived in Plockton (by car or by train) there are a number of interesting things to see and do.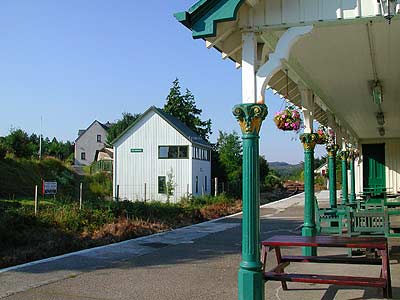 Walking is a good way to relax and the village lends itself to a bit of exploring whether promenading the seafront or at low tide going on to the shore and across to the little island to look for treasure.
Slightly more out of the village is the lochside walk to Duncraig Castle (signposted) and the more arduous trek up to the tv mast (where the spectacular views to Torridon Hills do justify the effort).
Calum's Seal Trips are well worth taking - Calum and his crew take you on board for a cruise round the little islands in Plockton Bay and further out in Loch Carron to do some seal spotting. Guaranteed refund if you don't see one! There are also small craft available for hire.
Cycle Hire is always a good way to get around and see the locale at a slower pace. It is possible to rent mountain bikes (and helmets etc) at the Craft Shop.
In Plockton there is a particular quality of light that makes it attractive to artists and photographers. Miriam Drysdale, The Manse, runs painting courses either for one day or arranges custom made holidays with Bed and Breakfast as well as painting instruction. www.painting-in-plockton.co.uk for more details.
Shopping in Plockton is a rewarding experience for most browsers! From everyday (and deli) items in Plockton Stores , to high quality crafts at The Studio, gifts with maritime flavour in "Hidden Treasures", or local crafts and books at Mackenzie's Craft Shop, to freshly caught prawns at the pier (mid afternoon, most weekdays) there is something for everyone.
For choices of where to eat in Plockton, you should consider any of the following: "Off the Rails" Restaurant up at the station .
The Haven Hotel.
The Plockton Inn.
The Plockton Hotel (on the seafront)
Plockton Yacht Charters - Hire a yacht and go sailing in the Highlands of Scotland
All the above are highly recommended.
Website : www.plockton.com (a great website!)
Getting here : Post Bus from Kyle of Lochalsh (10am-ish)
Train : From Kyle of Lochalsh - 3 per day
Taxi : Kyle Taxis : Tel. 01599 534323 - Dornie Taxi 01599 555 377
Car : Just follow the map below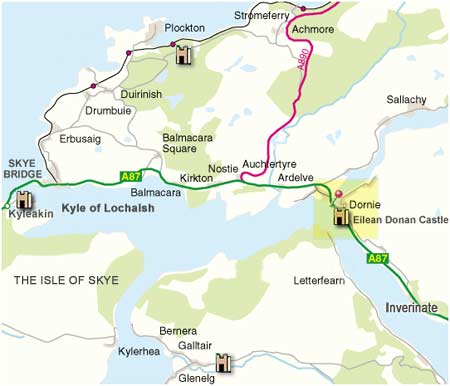 Map showing the location of Plockton