The Falls at Glomach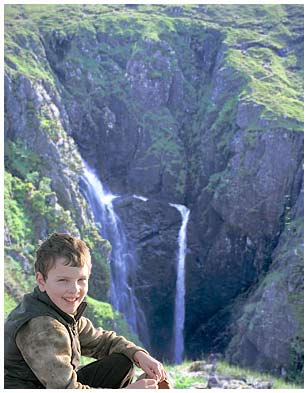 A young visitor to the falls
The Falls of Glomach (Glomach means gloomy) are 375 feet high and as such are the highest falls in the country. However the walk up to the falls is spectacular and there is plenty to take in on the your journey.
The falls are at the end of a 2.5 mile (approximate) moderate uphill walk from the car park at Dorusduain on the old A87. Most people of ordinary fitness take their time and allow around 5 hours for the round trip.
The falls are best after rain however it should be noted that thick mist regularly hangs over the hills in these conditions, especially near the end of the track leading to the gully where the falls are and its very easy for the inexperienced to get lost if the mist comes down. Be careful and preferably go up with someone who has been before and knows the way. In the summer on good weather days the water may not be as spectacular but the views are great!
Finally there are Ranger guided walks up to the falls in the summer months and also :
Ian Philp who is a former British Army officer and a qualified Mountain Leader. Registered with Mountain Leader Training Scotland and the British Mountaineering Council he has wide experience of leading groups outdoors. After leaving the Army Ian worked in Belize and Borneo as a jungle expedition leader. He now runs Highland Treks & Tours from the Kintail Lodge Hotel at Glenshiel.
NOTES: