Duncraig Castle by Plockton
Duncraig has seen may occupants in its roughly 100 year history.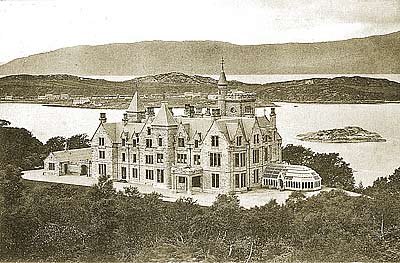 Newly built Duncraig Castle
HISTORY OF DUNCRAIG
Duncraig Castle was built in the 1860's by Sir Alexander Matheson (1805 to 1886) and is a fine example of Victorian baronial architecture.
Sir Alexander was a retired business magnate (co-founder of the Jardine Matheson Group) who was also involved with the building of the West Highland Railway line and in consequence, a station was provided for him close to his new home.
After Sir Alexander's death in 1886, Duncraig Castle had a varied existence. For some years it was let for the season, to fashionable hosts for summer house parties. Then, in the 1920's, Duncraig became the home of Sir Daniel and Lady Hamilton who also owned the adjoining estate at Balmacara. Sir Daniel had spent his formative years in India and was a keen advocate of social reform. In 1938 he was approached by the Education Authority to grant the use of facilities on his estate.
However with the onset of World War Two (and Sir Daniel's death at the beginning of the war) Duncraig was instead used as a Naval hospital. After the war ended (and Lady Hamilton had died) the estate was left to be administered for the good of the people of the Highlands. From 1945 until 1989 Duncraig was run as a domestic science college for girls. From 1995 to 1997 it was the base for the BBC production of "Hamish Macbeth".
The castle is now privately owned and in the process of being sensitively renovated.
You can find out more about this lovely castle at:- www.duncraigcastle.co.uk
SETTING
Duncraig's setting, in itself, invites superlatives.
Set in 40 acres of woodland and 2.5 km of shore line with direct private access to the beach, the view from the castle tower is breathtaking. To the north across Loch Carron are the mountains of Applecross and Torridon, to the west on the shores of the loch is the picturesque village of Plockton ("the jewel of the Highlands") and beyond, the distant peaks of the Cuillins of Skye.
Few homes in Britain can say they have their very own train station (request stops only!) especially on one of the most spectacular railways in Europe (Inverness to Kyle line). The beach at the bottom of the garden and the private chapel within Duncraig also combine to give Duncraig its unique blend of charm practicality.

Right on our doorstep we have such attractions as Eilean Donan Castle and the charming village of Plockton. Further afield the magical Island of Skye is waiting to be explored.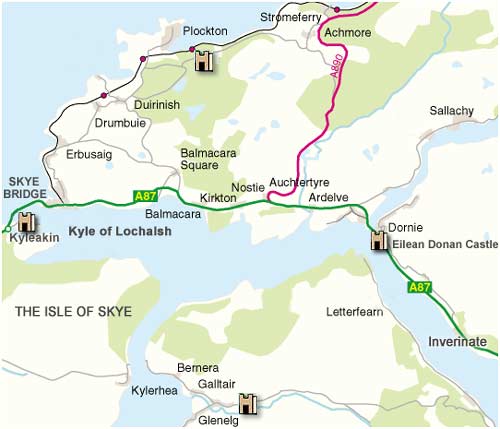 Duncraig is just opposite Plockton where the castle logo is