Glenelg and the gateway to Skye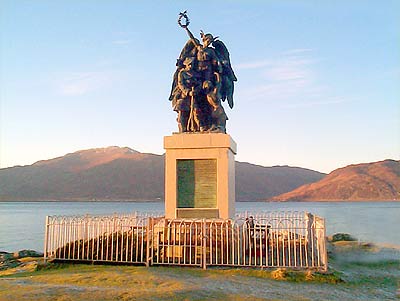 Lest we forget - War memorial at Glenelg
One of the more stunning drives in Scotland is over the 1100 ft hairpinned pass of Mam Ratagan down to the village of Glenelg on the Sound of Sleat. The road itself is a scenic attraction with a stop at the summit for taking in the view reccommended. You should be able to see right along loch Duich on the near side and down the Glen to Glenelg, The Saddle and Sguirr Fharan on the other. The old military roads criss-cross this area as do the more recent forestry tracks and can be explored with the aid of a detailed Ordnance Survey Map.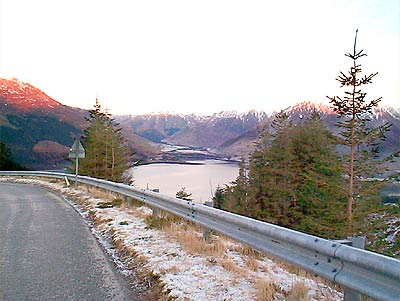 The road to Glenelg - Mam Ratagan
A right turn at Glenelg leads past a beach and camp ground to the small Skye ferry opposite Kylerhea (http://www.skyeferry.co.uk). This ferry only takes 6 cars (plus foot passengers) and is a charming method of sailing "over the sea to Skye". The ferry house by the slipway at Glenelg was where Dr Johnson and Boswell stayed in 1773. The "narrows" crossing used to be part of the cattle drovers route when at the right tidal conditions the cattle were made to swim across on the way south to market!
Back in Glenelg itself are the substantial ruins of the Hanoverian Barracks built after 1719 to house the Redcoat soldiers who were to keep the Jacobites in check.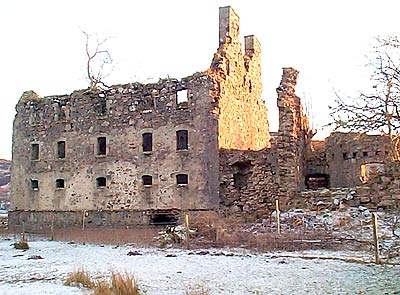 Glenelg Hanovarian Barracks
The Glenelg Inn (http://www.glenelg-inn.com) offers a cheerful welcome and has a well-deserved reputation for good, reasonably priced food and congenial company.
South of the village up a side road (down the hill to the split and turn to Glenelg village. Turn left again after the village and follow the signs) are the brochs of Dun Telve and Dun Troddan; tall stone towers (1 more than 10 metres high) with well preserved structural features. These date from 2000 years ago and are thought to have been defensive towersoccupied by families of Picts. (http://www.historic-scotland.gov.uk for more information).
Further along the coast road a forest track leads to Sandaig, the site of "Camusfearna" in Gavin Maxwell's "Ring of Bright Water".
Another place of interest for the visitor is the unique grass-roofed building housing Glenelg Candles (http://www.glenelgcandles.co.uk) comprising candle workshop, coffee shop and retail area.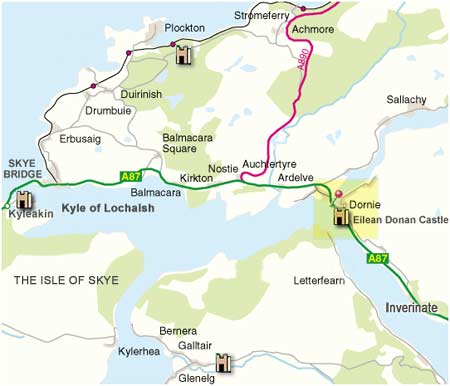 Map showing the location of Glenelg (coming soon)