Strathcarron & New Kelso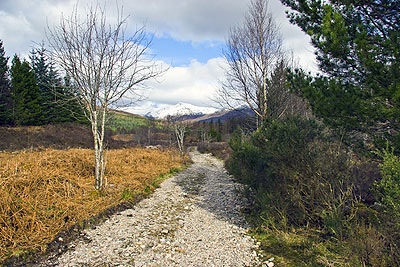 The path that runs from the main road back towards Strathcarron
Strathcarron is a lovely part of Wester Ross, often overlooked as visitors whizz through to Lochcarron or Achnasheen. Simply stop (and park) at Strathcarron Railway Station next to the Strathcarron Hotel and explore the glen and the River Carron running through. New Kelso is the Estate adjacent to Strathcarron between the main road from Achnasheen to Lochcarron and the station. It takes is name from the founder of the estate's old homelands (18th Century), one Ninian Jeffreys who hailed from Kelso in the south of Scotland.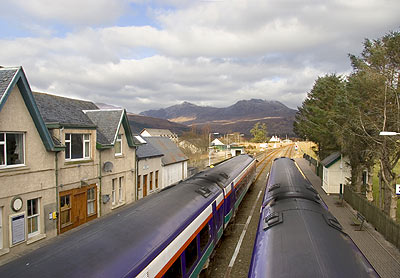 Strathcarron Railway Station
The village itself has a Post Office and shop, and Internet Cafe (IT Centre), Railway Stations and Hotel with a lively bar for travelleres and locals requiring 'refreshment'. There is a also Vicky Stonebridge (at Balnacra) who sells her hand made pottery and Terry Fowle who makes stained glass artifacts and has a walk-in exhibition.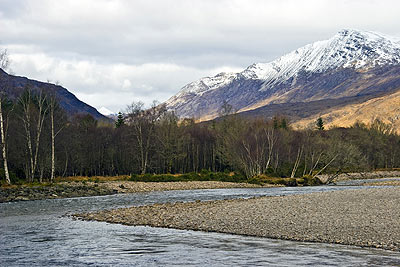 Walking in Strathcarron is easy going and there is a variety of routes, most of which are easy to follow so long as you dont mind getting your feet slightly moist. Ever present is the River Carron thought to mean stoney river, and anyone looking at the river will know why it came to have this name. You should choose where to begin your walk as this will dictate which bank of the river you will follow.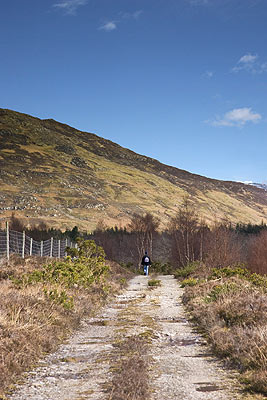 The easy to follow path behind Strathcarron
AT the Strathcarron junction, on the A890 road (Lochcarron or Achnasheen) head East towards Achnasheen and over the next mile or so there are at least 3 paths leading off to the right towards the river Carron. They all run along the side of the river through partly wooded and partly open landscapes and interlink with each other.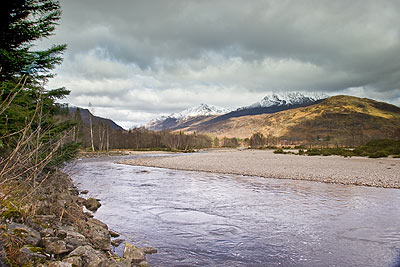 The River Carron
The hills here in both summer and winter are a joy to behold and the air is filled with the smell of the heather and moorl, the sounds of birdsong and the rumbling of the river making this a walk for all the senses. Spotting buzzards and the occasional eagle soaring high in surrounding the mountains is quite usual.