Kinloch Forest and Leitir Fura (Skye)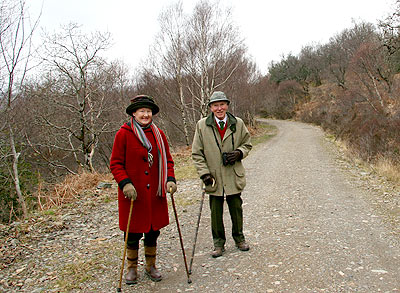 A superb path runs behind Kinloch Lodge
A few miles up the A851 is the signpost for the forest walk at Kinloch and beyond the deserted township of Leter Fura. The road is well kept and a few hundred yards in on the right is the car park.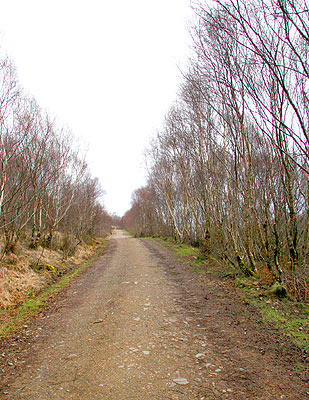 Birch forest on either side of the path
Walking between the lines of forestry commission trees for a few hundred yards you come to birch forest and a rich ecosystem whcih is an SSSI or Site of Special Scientific Interest. Look closely and you will see fungi on the trees, frog spawn in the pools at the sides of the track and deer drifting through the trees. High up ... an eagle. Other rarer recent sightings include: Woodpeckers, Peregrine and Merlin, as well as a host of other smaller birds.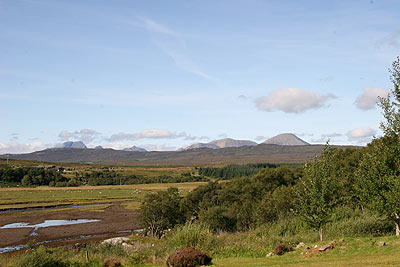 The view over to the Cuillin Hills
Shortly you come to the signpost that descrbes the Leiter Fura Trail; an old drovers' path and a choice of two walks: short walk at around 1 mile and the longer loop of 2 or more miles which leads to the abandoned village of Leiter Fura.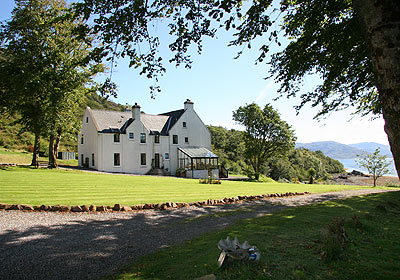 Kinloch Lodge - it has a wee gift shoppe inside.
If you go uphill at the Leter Fura Trail Information SIgnpost and info-panel you can see across the loch to Isleornsay. Further round the trail are truly breathtaking views of Loch Hourn and the Knoydart Peninsula.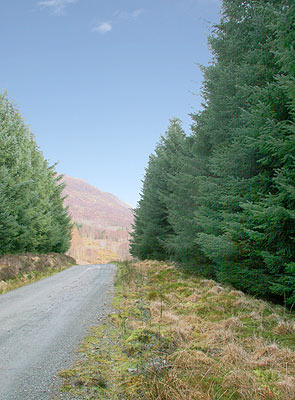 Kinloch Forestry planting
FInally you come to abandoned village of Leiter Fura which is not much more than the collapsed stone outlines of some houses. Its been a couple of hundred years since anyone lived here although its thought that the area has been in human habitation since the Vikings used the beach below Leiter Fura as a harbour for their longboats.
The adventurous walker could go on further still to Kylerhea, although the track is not nearly the same quality of the Kinloch Forest path. See the Ordnance Survey map for details and take it with you ....