Mountains & Hills in Skye & Lochalsh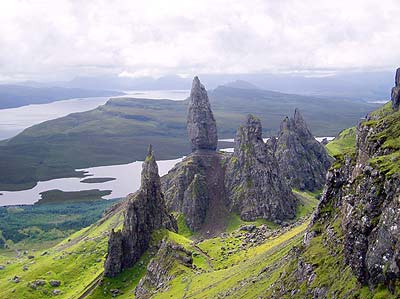 The Storr - Staffin, Isle of Skye
Readers of this article are reminded that its NOT advice for climbers, simply observations and information given to us from people who have been high up into the hills. Seek proper advice and training before venturing into the hills and go with someone who is experienced! Be safe.
The Highlands of Scotland provide most of the best big routes in the U.K. There are classic big mountain and low-lying routes at all grades.
Lochalsh (i.e. Kintail) area has over 20 Munros and this is without considering Skye, Torridon and Affric districts. A Munro is classed as a mountain exceeding 3000 feet in height as designated by Sir Hugh Munro in his published Tables of 1891.
The South Shiel ridge has 7 Munros and the North Shiel ridge (incorporating Five Sisters of Kintail) lies at the head of Loch Duich and provides spectacular views to Knoydart and beyond.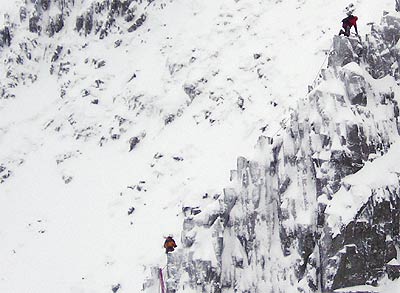 Be safe and don't mess around up there - it's dangerous!
The Isle of Skye has many good climbs and indeed scrambles up through the heather for the novice are plentiful - just take care!
There are actually two groups of Cuillin - Black and Red.
The Black Cuillin are what most people are referring to when they say The Cuillin. They are high hard and jagged and the highest of the Cuillin. The 12 Munros on Skye are Black Cuillin. The high point on Skye is Sgurr Alasdair. Make no mistake these are dangerous climbs and in fact the Cuillin Ridge traverse although only 7 miles can take an experienced climber upwards of 15 hrs from Glenbrittle - Sligachan. Tip: Take water with you as there is no water on the ridge.
The rock of the Red Cuillin have a reddish colour hence the name and the hills are more rounded and often scree slopes. In fact the highest of the Red Cuillin is Glamaig and has an annual hill race up one side.
Safety is important and all the usual rules apply. Note that the Cuillin hills are magnetic and can throw a compass off bearing.
Try this link The Cuillin Ridge
Books have been written on just climbs in this area and there are many good websites too.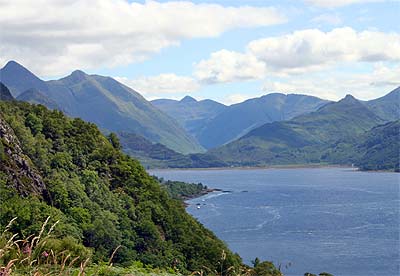 The hills at the head of Loch Duich (Kintail)
Ian Philp www.tourhighlands.co.uk is based at Kintail Lodge Hotel and is a qualified guide who will give advice on routes as well as less arduous treks in the area.
Bill Strachan www.scotchontherocksguiding.co.uk is based in Inverness and has many years experience of rock climbing and mountaineering.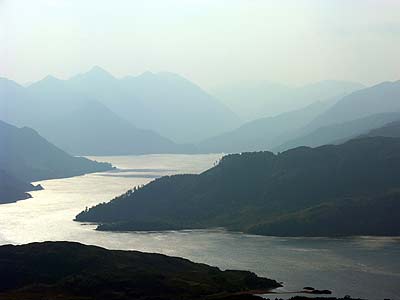 View down through Totaig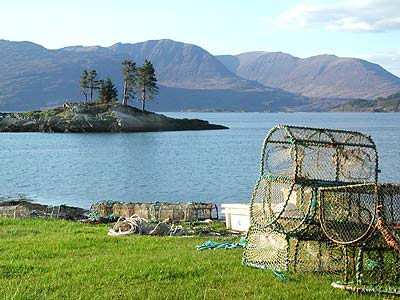 The Applecross Hills as seen from Duncraig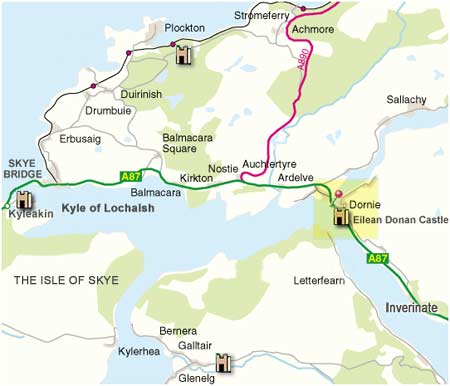 Map showing the area of Lochalsh