Kintail and beyond
Possibly the wildest part of Lochalsh. Mountains to climb, rivers to fish, wilderness to explore and small villages with friendly people.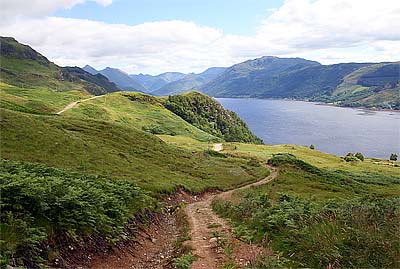 Looking to Kintail from Inverinate
One of the major attractions to the Kintail area is hill walking. There are numerous Munroe's including the Five Sisters of Kintail and the Cluanie Ridges. There are also regular guided walks scheduled during the summer by the National Trust for Scotland at their Morvich Countryside Centre.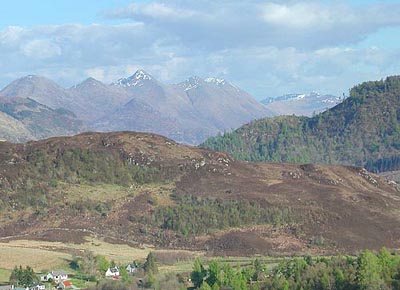 The Five Sisters of Kintail
The area is rich in wildlife and with some patience and determination you will be able to see sea otters playing on the shore of Loch Duich and golden eagles soaring around the mountain peeks. There are also deer, pine martins, badgers and wild goats to name a few animals.
There is also good fishing locally both in the river and sea angling.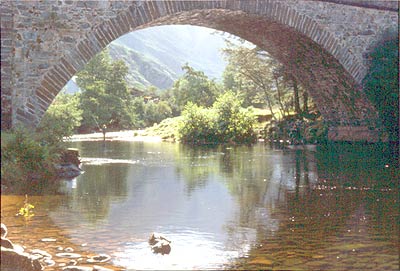 The Bridge at Kintail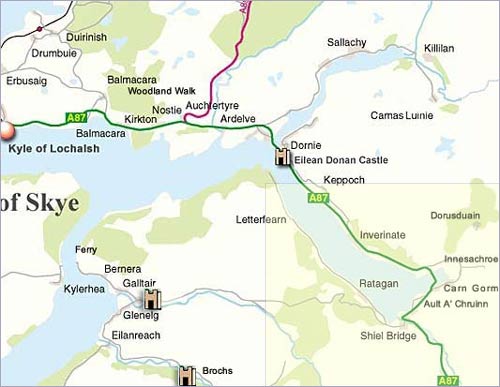 Map showing the Kintail area (approximate)